A Family of Faith
Husband and Wife are Planting Churches in Argentina
January 20, 2019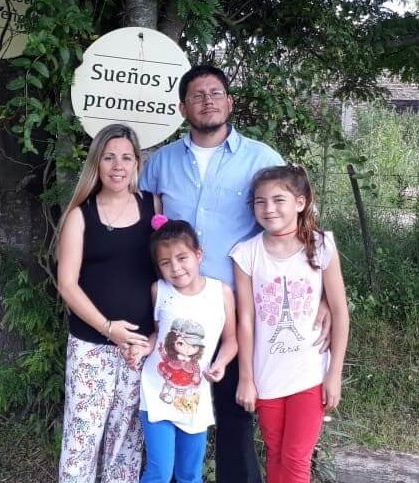 For 39-year-old Victor, sharing the Gospel in Argentina is a family affair. So, when he and his wife, Paola, were given the opportunity to plant a church in Villa de Merlo, San Luis—a place nearly 500 miles away from where they currently lived— they didn't hesitate to go. Through their church, the couple helped lead outreaches in the provinces of Mendoza and Córdoba, but when they went to the San Luis Province, "Our hearts felt different," Victor recalls.
Soon, the Lord surprised the couple when ministry leaders invited them to take part in the first-ever Church Planter Training in Argentina. Victor says, "I remember thinking, 'What does God have prepared for us?' Then I gathered my family and drove around 85 miles to get to the first module of training." Victor and Paola loved the training and being around others who had godly dreams like theirs.
Victor explains, "We reached the part of the course in which we had to specify where we wanted to take our vision/dream. Right then, in one voice, Paola and I said, 'San Luis Province.' And we knew we wanted to go to Villa de Merlo." Almost immediately after the training, the couple traveled to Villa de Merlo to speak with believers they knew could lead Project Philip Bible studies in the area.
A couple months later, God's plan for their lives only became clearer during the second module of Church Planter Training. "We received news that God prepared a rental house in a little town close to Villa de Merlo. We were ready to move there and start to work for the Lord in Villa de Merlo." Victor and Paola packed up their two children (and one more on the way) to make the 10-hour drive to their new home.
Victor beams, "Through your vision to develop church planters, you have put the possibility of achieving dreams in our hands. Thank you!" Please pray for them as they work towards completing their Church Planter Training and reaching out to the people of Villa de Merlo.